Welcome to Costume Lantern
It's All About Me
Let me introduce myself. My name is Lisa Ashton, and I am a Costumer. Until now, I never thought I had time to edit and manage a website about my costumes and other creative work. I'm going to give it a try now, and add as many photos of costumes, presentations, beadwork and other projects that I can find time for. In addition, I will offer articles, analysis, and vignettes about costuming and life. You will likely not see the word "cosplay" here, because I don't use it. To me, it's what the younger generation often say, and reflects their passion for the characters they re-create. For me, it's all about the process of creating and building a costume, the diversity of techniques and execution--in short, workmanship. It's less about the "character of my character".
2016 and early 2017 Activities
The past year has been a very productive and exciting time for me with regard to costuming, quilting, beading and learning a number of new techniques, many applied to restore or repair vintage items, not just clothing, but re-covering antique books, repairing and re-covering antique parasols, and restoring furniture and accessories. I continue to attend several local flea markets regularly, with special trips to the Antique Flea MArket at Brimfield, Massachusetts either in the summer or the fall show. Last summer was terrific, and I returned home with an antique parlor icebox and a very large framed hair wreath that had been made over several generations in the 19th and 20th centuries.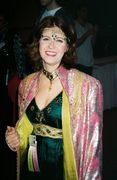 1994 Hall Costume
I have tried to make the site direct and self-explanatory. Check out the Galleries for photo albums of costumes and events. Peruse the articles. Sign the Guest Book, let me know what you think!
Other Interests
My life contains more than costuming, although that itself includes a lot! I am also, in mundane life, a Physician Assistant with over 30 years of experience in Surgery, Emergency Medicine and Geriatric Research. At this point, I am semi-retired and work one day a week at an Urgent Care. I love to hunt and to be in the Great Outdoors, birdwatching and observing wild life of all kinds in its natural habitat. I am a passionate quilter and beader. I definitely go through "phases" in which I get an urge to make a bunch of pillows, for example. I have completed at least 9 quilts in the past 8 months.
My life up to Today
As almost all of you know, in 2013 I experienced what no one expects: the very sudden death of my life partner, Roger, from sudeen cardiac death. Life changed drastically after that, even after I was able to return to work. About 2 years later, I bought a place here in Harpers Ferry, WV, the place that everyone seems to love. It's much smaller than my house in Maryland, where I lived for almost 25 years, so I had to downsize quite a lot. I still have the things that give me joy though, they are hung up on my walls and over my beds and couches. My old cat, Tea, passed away--a natural death at the age of about 20 years old; I now have a lovely cat named Lucy-fur. My cabin in Romney was sold because I could no longer maintain by myself. I seem to have re-purposed almost everything in my life, but I do love my little house. My basement I had finished before I moved in, and it's become the site for Miss Lizzy's Traveling Historical Fashion Show, a non-profit Special Interest Group under the umbrella of the ICG.