Welcome to Costume Lantern
It's All About Me
Let me introduce myself. My name is Lisa Ashton, and I am a Costumer. Until now, I never thought I had time to edit and manage a website about my costumes and other creative work. I'm going to give it a try now, and add as many photos of costumes, presentations, beadwork and other projects that I can find time for. In addition, I will offer articles, analysis, and vignettes about this life we call costuming.
Spring & Summer 2011Activities
Recent activities include the magic that is Castle Blood for 3 weekends in October; at one of these weekends I was very pleased to host Gypsy Ames, a costumer friend from Colorado Springs and a maverick in her own right, and introduce her to the Castle staff. On the way out of Pittsburgh on my final weekend there, I was able to get to Trader Jack's, a fabulous Flea Market, and find more of the authentic Victorian photos that I have begun collecting. Saturday 11/21/09: This weekend I am at Philcon 2009, a SF con held around Thanksgiving, at the Crowne Plaza Cherry Hill, NJ. I have been part of it's Masquerade and programming for years, but this year, I am coordinating the Costume Program track. The con was off to a very slow start yesterday afternoon, as the hotel was apparently not ready for the con to start, and most of the function rooms were either not available or were not cleaned up and ready. We began our costume program with 2 panels at 5 and 6 pm respectively, "Costuming on the Cheap: Making a Lot With Practically Nothing", follwed by "What is SF Costuming and Why Do We Care About It?". Surprising (to me at least), there were actually con members who attended both of them! The second, especially, became an interactive discussion of the broad spectrum of SF, fantasy costuming, and the many genres it includes, as well as how it has crossed over into the world of contemporary fashion including, Goth and Steampunk. I registered for the Masquerade--because the function space at the hotel is limited, we don't have the stage area, and there is no rehearsal times offered. I can only hope for the best. Later, at the Freebie table, I found a cache of old Harpers Magazines, dated from 1870 through about 1908, and kept several for myself. This is one of my favorite historical periods, after all. The advertisements were priceless.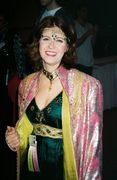 1994 Hall Costume
I have tried to make the site direct and self-explanatory. Check out the Galleries for photo albums of costumes and events. Peruse the articles. Sign the Guest Book, let me know what you think!
Upcoming Events 2009/2010
My life contains more than costuming, although that itself includes a lot! I am also, in mundane life, a Physician Assistant with 25 years of experience in Surgery, Emergency Medicine and Geriatric Research. I love to hunt and to be in the Great Outdoors, birdwatching and observing wild life of all kinds in its natural habitat. I have been an avid stamp collector since the age of 12. I have lived in Europe for a year, and Japan for a year, and traveled to the Czech Republic twice to buy beads, over 800 lbs, of which live in my garage now until they are sold. I love hunting--deer, small game, turkeys. I also love Flea Markets and Yard Sales--which began my newest hobby--collecting authentic Victorian photos of ladies dresses.
The Cabin
My cabin and property outside Romney, WV is the true center of my universe, away from everything else (including phones and the Internet). It's where I go to get away from it all, to hear silence, and to commune with the wildlife. More on this inside!